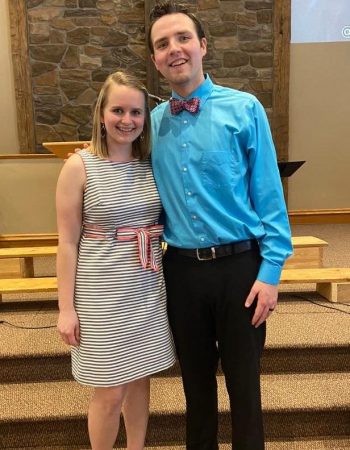 Associate Pastor Luke Fenstermacher
Luke has been serving as Associate Pastor of AUCC since 2019. He and his wife, Ashley, are deeply passionate about seeing lives transformed by the Gospel of Jesus Christ. Currently, Luke's role as Associate Pastor has allowed him regular opportunities to engage in regular teaching and preaching. Ashley works as a nurse at the Hershey Medical Center and is passionate about caring for the needs of those around her. She enjoys piano and worship ministry and helping to instruct young lives in the Truth of God's Word. Throughout their ministry, they have been encouraged by the ongoing faithfulness of the Lord.
Luke and Ashley enjoy taking walks, road trips, and playing with their dog, Terk. When possible, they often find themselves in the kitchen cooking and baking. Making homemade ice cream is one of their favorite past times. They greatly enjoy sports and engage in a healthy rivalry of Pittsburgh and Philadelphia fanfare. They are looking forward to the day when they welcome new lives into their home, and are grateful for the time they have together. Luke and Ashley are thankful for the opportunity to serve as a team, and have been humbled by the Lord's grace and enduring faithfulness. Their utmost desire is that God would be glorified through their Kingdom efforts.